Chili Davisの直筆サイン入り写真 (1 / 2ページ):


MLB Chili Davis Success (New York Mets) - 2019年12月1日
Sent a LOR, SASE, and 2 TCs to : Charles 'Chili' Davis c/o New York Mets Citi Field 123-01 Roosevelt Ave Flushing, NY 11368 Sent : 8/20/19 Received : 11/30/19
---
コメントを書く | コメントを見る
---
MLB Chili Davis SUCCESS! 5/1/19 (New York Mets) - 2019年5月2日
Sent LOR, SASE, and 94 Score card on 2/12/19 to the NY Mets spring training site in Port St. Lucie, FL. Got response 5/1/19 (78 days), card returned, signed in blue marker. http://surfmypictures.com/image/25f3ad89acc11acd/4sr9t.html

---
コメントを書く | コメントを見る
---
Chili Davis MLB Failure - 2017年11月14日
Sent LOR, SASE and TC to: Mr. Chili Davis 2348 E. Cinnabar Ave. Phoenix, AZ 85028 Received my card back unsigned. Sent: 5/5/17 Received: 11/14/17 Uploaded with ###://surfmypictures.com:surfmypictures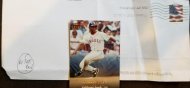 ---
コメントを書く | コメントを見る (3)
---
Chili Davis - Ex MLB Player (Oakland Athletics) - 2013年2月21日
I mailed 6 cards, letter, and SASE to Chili Davis and received back 3 cards signed and 3 unsigned. What was kind of weird was he chose 3 cards from different teams which I was kind of happy about. Either way I am happy to get the signature. Mailed - Sometime early January (Don't remember the exact date) Received - 2/19/13 Mailed: Oakland Athletics Attn: Chili Davis O.co Coliseum 7000 Coliseum Way Oakland, CA 94621 http://imageshack.us/photo/my-images/248/img0011xn.jpg/:http://imageshack.us/a/img248/2142/img0011xn.th.jpg Thanks Mr. Davis!
---
コメントを書く | コメントを見る (3)
---
Chili Davis Success (Pawtucket Pawsox) - 2011年10月7日
On 5-10-11, I sent a LOR, SASE, and baseball card to Chili Davis at : Chili Davis C/O Pawtucket Pawsox McCoy Stadium 1 Columbus Avenue Pawtucket, RI 02860 On 10-6-11, I received my baseball card back auttographed.
---
コメントを書く | コメントを見る
---