Tina Louiseの直筆サイン入り写真 (2 / 5ページ):


Tina Louise Success - 2016年9月26日
I sent a photo, letter, and SASE to Tina Louise, known for her role on "Gilligan's Island." I sent the letter on September 19th, 2016 along with $10, as I know that's her fee per signing. I received my photo back personalized and signed today on September 26, 2016. I used the address in the database: Tina Louise 310 East 46th Street Apt 24G New York, NY 10017-3002 USA
---
コメントを書く | コメントを見る (3)
---
Tina Louise Half-success - 2016年9月19日
I wrote a long letter to Tina Louise, overloaded with questions and compliments and a casual autograph request and sent it around August 6th and got this reply on August 18th. (I know she request ten dollars per autograph, but I wondered what would happen if I wrote to her without bringing up money and mentioning the autograph at the end.) The photo wasn't signed, but I got this letter!
http://surfmypictures.com/image/7255df9 ... 65wmq.html If you can't read it, here's what it says: Hi Faith Lovely name also I'd love to have tea or coffee to answer your questions but not today too hot in NY Take care
T Well, this is good enough for me! I'm so excited!! The address I used was Tina Louise 310 East 46th Street Apt 24G New York, NY 10017-3002
---
コメントを書く | コメントを見る (2)
---
Tina Louise - Success - 2016年5月14日
NYC address from database was used. sent - 5/9/16 received- 5/14/16 I sent 20.00 check, as I knew she asks for 10 per autograph. She sent back a note asking for me to pass it along that it is cash only, no checks. Dawn Wells was also TTM using address in database, that one taking a couple of months earlier this year.....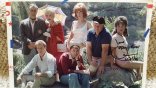 ---
コメントを書く | コメントを見る
---
Reply from Tina Louise - 2014年8月4日
I sent a letter to Ms.Tina Louise and received a reply a little while later. I sent my letter June 9th and the reply came around July 25th. She sent a personal card that she had written herself. I was very pleased to see that she had taken the time to write a message to me. The address I used was: Tina Louise 310 East 46th Street Apt 24G New York, NY 10017-3002
---
コメントを書く | コメントを見る (2)
---
Tina Louise success - 2013年6月22日
Sent a LOR, photo, SASE and $10 (as mentioned in previous posts) on 5/21/13 Received photo personalized and signed on 5/31/13 Address used (from database): Tina Louise 310 East 46th Street Apt 24G New York, NY 10017-3002 Very happy with this first real success through this site (I tried Jay Leno a while back, received a PP). -
---
コメントを書く | コメントを見る
---