Steven Yeunの直筆サイン入り写真 (2 / 12ページ):


Steven Yeun success - 2014年12月8日
Sent letter and picture to the studio address in Atlanta on 6-25-14. Picture returned signed 12-8-14. you can see all my autographs follow me on twitter at cavewv -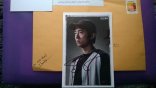 ---
コメントを書く | コメントを見る
---
Steven Yeun - Walking Dead success - 2014年12月7日
I wrote to Steven in September 9 2014, received December 6 2014! I had sent it to the set in Senoia, GA yet its post marked from Michigan. Its wonderful Steven has taken the fanmail back to his home state to work on while being away from the set! Dark picture and a black sharpie.. The signature doesnt come out too well unless I took the picture w/ flash. - -

---
コメントを書く | コメントを見る (3)
---
Steven Yeun TWD - SUCCESS! - 2014年12月6日
c/o TWD set Sent: 10.18.14 Returned: 12.6.14 Signed: 2/2 2 custom cards i made - - And the envelope -



---
コメントを書く | コメントを見る (3)
---
Steven Yeun success - 2014年2月14日
Sent SAE, LOR, one photo about a two month ago. Came today one my photo signed.
Address used in database. I was confused what the envelope with my return address there is nothing except the barcode even brands not. But this is not important, the main thing that came


" title="Rolling Eyes" />

- Uploaded with ###://surfmypictures.com:surfmypictures
---
コメントを書く | コメントを見る (6)
---
Steven Yeun Success! - 2014年2月6日
I wrote to Mr. Yeun on 12/05/13 (three photographs, 2 index cards, my letter, and a SASE), and received all three photographs signed today, 2/05/14 (62 days total). I am an avid fan of The Walking Dead, and this marks the third success I have had from the show (Andrew Lincoln and Norman Reedus are the other two). It was a lovely suprise to come home to. Address used: Steven Yeun Pine River Entertainment 1200 South Corning Street, Ste. 101 Los Angeles, CA 90035 - -

---
コメントを書く | コメントを見る (2)
---