Steven Yeunの直筆サイン入り写真 (8 / 12ページ):


Steven Yeun Success!! - 2012年4月14日
I was a very happy boy today. Sent an email to Steven Yeuns agency, Pine River Entertainment on the 6th March 2012. Received a reply within 12 hours saying he would be in at the end of the month and would get him to sign a picture for us and email when posted. Got an email to say it had been posted last Thursday. Came on the 11th April but wasnt in so picked it up today from the Post Office. Big thanks to Monica of Pine River. So happy as I have him and Andrew Lincoln now. Walking Dead collection slowly building. - - -


---
コメントを書く | コメントを見る (5)
---
Steven Yeun (Email Success) - 2012年4月4日
I emailed his talent agent in early March and received my personalized autograph April 2, 2012 Definitly made my day after a long day at work!!!
- -

---
コメントを書く | コメントを見る (8)
---
Steven Yeun Success (from a few months ago)... - 2012年4月3日
Hi Everyone, I went onto Steven Yeuns Managements website (Pine River Management) and sent a request out sometime in November last year, on 15th Dec 2011 I got 2 x signed photographs, one with a lovely personalisation
This is now one of my favourite autographs within my collection, Steven is awesome!

Photos in links below:- http://lorri.webs.com/apps/photos/photo ... =144949601 http://lorri.webs.com/apps/photos/photo ... =144949602

---
コメントを書く | コメントを見る (2)
---
Steven Yeun Success - 2012年4月3日
Ive been working away in London for a month and came home yesterday to four successes! So the dates that I received them may be a bit off. Sent a photo, SAE and $2 to the pine river address. Sent: 15th Feb Recd: 15th March - ish Received my photo back in my envelope. He had included a piece of cardboard as well as returning $1. Such a nice guy. Photo: http://i1070.photobucket.com/albums/u48 ... enyeun.jpg Envelope: http://i1070.photobucket.com/albums/u48 ... velope.jpg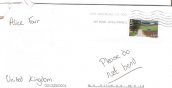 ---
コメントを書く | コメントを見る (3)
---
Steven Yeun Success! - 2012年4月3日
Sent: 3-12-12 Received: 4-2-12 I sent Mr. Yeun a LOR, SASE, and 2 photos. He signed them both and put cardboard in in SASE for me, nice guy. The address I used was: Steven Yeun Pine River Entertainment 1200 South Corning Street Suite 101 Los Angeles, CA 90035 USA I cant wait for season 3 of the Walking Dead! Photo 1: http://i1045.photobucket.com/albums/b45 ... C00123.jpg Photo 2: http://i1045.photobucket.com/albums/b45 ... C00122.jpg Envelope: http://i1045.photobucket.com/albums/b45 ... C00124.jpg

---
コメントを書く | コメントを見る (2)
---